Sanity Wars Reimagined
A downloadable game for Windows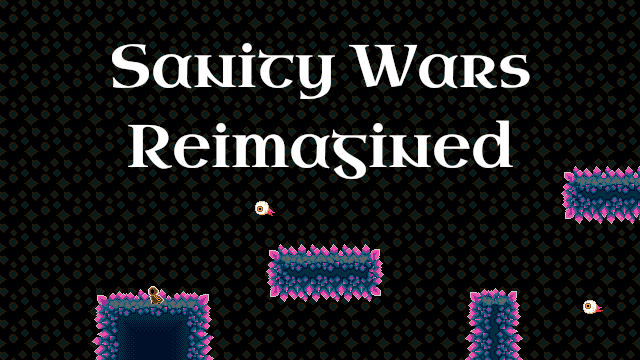 The Dread Overlord has taken control of the world, and fills it with terror! Can you battle his minions, find the tomes of knowledge, and escape to save the world?
Sanity Wars Reimagined is a singleplayer pixel-art platformer built around the concept of spawning entities at random over an unchanging set of maps. Find tomes and avoid the Dread Eyes as you fight to find the exit before your sanity runs out. You can use spells to help you in your quest, at the cost of your own sanity. Each run is scored, and your best scores are saved!
---
Controls
| Action Name | Keys |
| --- | --- |
| Movement | AWSD or Arrow Keys |
| Use Portals | E |
| Cast Fiery Rage | Spacebar |
| Cast Desperate Flight | Left Shift |
| Pause Menu | Escape |
---
This is a remake of the jam game Sanity Wars, from Ludum Dare 43, where "sacrifices must be made" was the theme. It uses slightly different mechanics and controls, attempting to improve on the formula introduced by the original. The main purpose of this game is to create technology and processes that will serve as a foundation for our future games.
Install instructions
Download the ZIP file, then extract it to your location of choice.